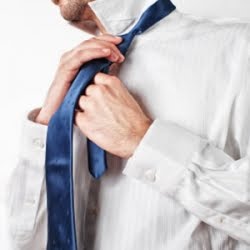 don't let work tie you down this week. try a new look this fall - grab any ol' tie & use it as a retro prop for your yoga practice!
go ahead, find the ugliest one in your closet (or your dad's, significant other's, etc.) & embrace it as your new favorite yoga strap.
then extend & streeeeetch those hammies out, open up those shoulders - but not your piggy bank. heck, even practice your tying skills if you need to shorten it - talk about multi-tasking....