Wednesday, September 5, 2012 at 12:03AM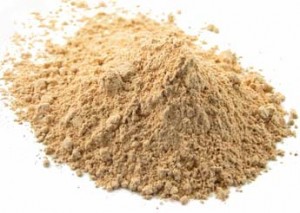 maca root powder. it's one of those exotic items in the superfood aisle that has caught my eye for a while but i've been too intimidated to buy it - mostly because it seems to be a bit pricey (especially if i decide i don't like it!). well, this holiday weekend i was strolling the aisles of one of my favorite nyc, local grocery stores and decided to take the plunge. i purchased my first pound of raw, organic maca root powder. then when i got home, i took to the interwebs to see what i could find out.
here's a laundry list of all of its superpowers:
maca root contains 31 differet minerals and 60 different phytonutrients
(forget the multi-vitamin in the a.m.)
maca root creates hormonal balance in the body's endocrine system, which includes the thyroid, pituitary and adrenal glands - it's really amazing that it is able to control these hormonal levels without any hormones of its own!
(amazing, yes! another way to skip the pharmaceuticals if you need help stabilizing these glands)

maca root boosts fertility in both men and women, thanks to the alkaloids that it contains
(noted. this will be shared in many random convos with my pals 'working' on the baby thing)

maca root is an adaptogen, helping the body to resist disease and stress
(yes, please and thanks, i can never have enough help in the stress-fighting department)
maca root provides sustainable energy, unlike caffeine, it is known to aid in stamina and mental clarity without any highs or lows
my personal observations about maca root:
it is pale yellow in color
it has a mild nutty flavor with a hint of butterscotch
it blends well and easily in smoothies
here's what to do with it (use 1-2 tablespoons):
add it to smoothies
substitute in a little bit of maca root powder in place of flour when baking
add it to your hot chocolate (maca root combines really well with fats like those in cacao)
if you live in nyc, or another city with lots of health food store options, just look in the superfoods section. you should find maca root powder next to the chia seeds and cacao powder. otherwise, check out myojio.com, this powder is the same one i picked up at the store for about $14/lb.

all in all, $14 isn't so bad for a powder with so many dang magical powers, thank you mother nature.